Illinois state Rep. Jeff Keicher (R-Sycamore) | https://repkeicher.com/
After months of hard work with little to show for it, Illinois state Rep. Jeff Keicher (R-Sycamore) fears that the state's new Property Tax Relief Task Force will suffer the same fate as similar panels that came before it.
"I'm very disappointed that most of our ideas for property tax reform are not included in the task force's report," Keicher recently said in a post to Facebook. "Previous efforts to fix Illinois' broken property tax system through blue-ribbon commissions and task forces have failed. This task force report appears to be one more example of history repeating itself."
Even before Keicher and 87 other members of the state legislature were named to the task force created in July by Gov. J.B. Pritzker, Republicans remained cautiously optimistic about the impact it would have on Illinois' soaring property taxes. Now, after several months' worth of meetings, multiple GOP lawmakers have expressed their concerns about not being heard.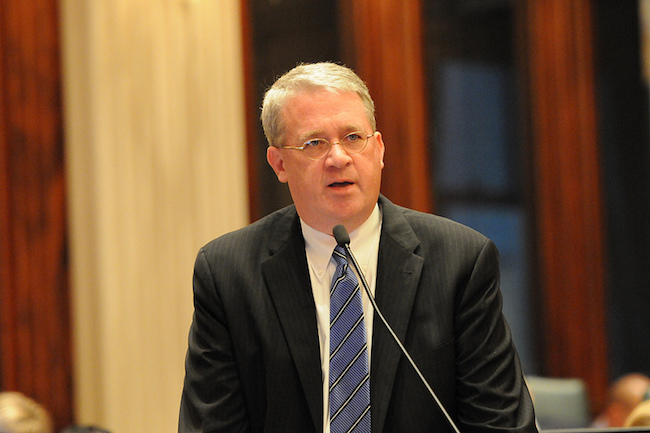 House Minority Leader Jim Durkin (R-Western Springs)
In separate statements, House Republican Leader Jim Durkin (R-Western Springs) and Senate Republican Leader Bill Brady (R-Bloomington) have both lamented that some of the early conclusions made by the panel did not include sufficient input from the entire membership. Despite the challenges, Keicher's tone and resolve have remained consistent since Durkin appointed him to the task force last summer.
"Everywhere I go, people talk to me about the high cost of property taxes and how it impacts their family or their business," he said in a statement on his website at the time. "Families cannot achieve or maintain the dream of homeownership, and seniors on fixed incomes cannot afford to stay in their homes unless we take action and reform the system. I am committed to leveraging my role on this task force to work toward realistic solutions that reduce the property tax burden on local families in a meaningful and lasting way."
The original plan called for the group to submit a report to Pritzker and the General Assembly with both short and long-term solutions by the end of 2019.